FFXIV is a complex MMO in many ways and has a great number of aspects to experience. Although many players enjoy the game, some have not had such favorable experiences. For a long while it has been my intention to create a Final Fantasy XIV survey to ascertain opinions from the community including players both old and new.
To create factual articles regarding the pros and cons of this game it is essential that I have a wider range of views than just my own thoughts. The opinions of current and former players are crucial to gain an understanding of where the game is excelling and also the significant drawbacks that can alienate a player.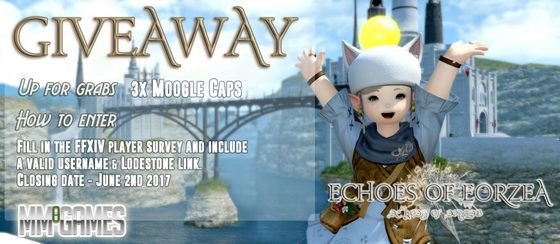 The FFXIV Player Survey has now been created and will run for a month from this date. Your feedback would be greatly appreciated if you have ever played Final Fantasy XIV, even if it was only for a short period. The survey looks at many aspects of the game such as character creation, user interface, combat and technical issues.
As an incentive to participate, I will be giving away 3 Moogle Caps on the closing date of the survey. To be entered into the giveaway you must include either your character name and server or Lodestone URL on your completed form. This will allow me to verify the account. ..Read More!